This DIY airplane piggy bank tutorial will guide you, step by step, to making a fun and creative piggy bank.
The best part?
It will take less then an hour from start to finish and you will get to spend quality time with your loved ones.
That's not all…
You should have all of the materials lying around your house.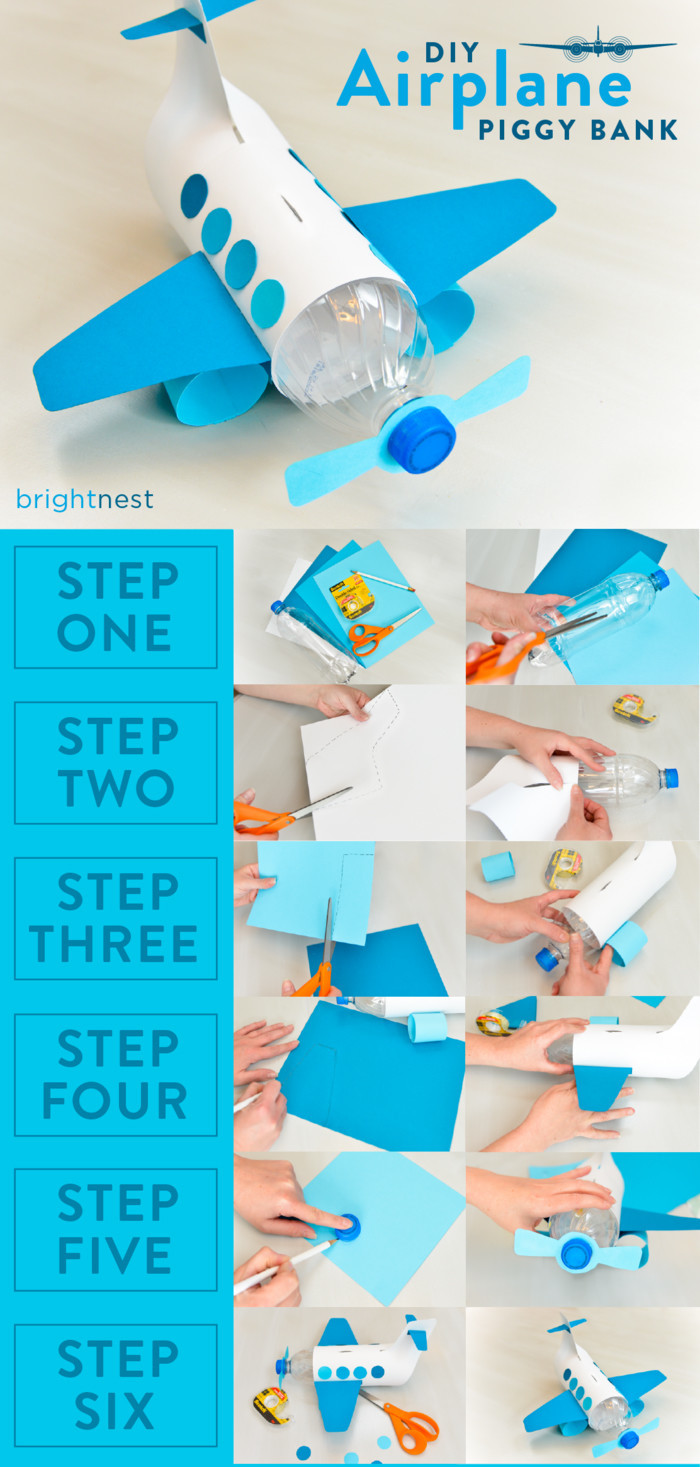 DIY Airplane Piggy Bank From A Plastic Bottle
It's always helpful to learn about money management and savings, in particular, at a young age. What better way to teach your kids about savings than with a DIY airplane piggy bank?
We originally saw this idea at from the team at BrightNest and knew that this would be perfect to make with my 3 yr old niece. So we had to try it.
Our piggy bank guide will show you how to turn everyday items like a plastic soda bottle into a creative DIY piggy bank.
This amazing bottle piggy bank craft familiarizes your little ones with the concept of money while retaining the appeal of a toy airplane.
The best part is you don't need a Ph.D. in aeronautical engineering to create one of these plastic bottle money banks.
In less than an hour and using readily available materials, you can have one of these ready without breaking a sweat.
Flying Down Memory Lane
The airplane Piggy Bank project is such a fantastic item to keep that loose change you always have lying around.
Do you recall what having a piggy bank or some sort of a savings bank when you were little was like? I learned to save at quite an early age and I could save my coins and the little pocket money I had as hard as I could all year.
The motivation? Two words, summer vacation. The plan was so I could buy lots of ice cream, or a ball to play with at the beach or some sunglasses.
Things that are mostly taken for granted now. Back in the day, these were treats that had to be saved up for.
It's always a good idea for kids to learn about saving up money to buy their own treats and other things they want.
Part of learning about managing money involves learning when there isn't enough money for everything they want too.
The crafting news team felt it was about time we shared projects that teach as well as entertain.
DIY Airplane Piggy Bank Materials
Today, homemade piggy bank ideas can come from a simple soda bottle that can be made to look like an airplane using just simple supplies such as card stock or construction paper and some tape.
You can let the kids design and make their own airplane coin bank and decorate it how they like. Here are the supplies you need;
Projects of this nature do not require any special skills, just your imagination, and some patience.
This DIY airplane piggy bank is a great project to make with your kids (or nieces).
For me, I had my little niece's help and we had quite a blast throughout the project. She loves airplanes and this is one DIY item I know she's going to treasure.
So together we made her own personalized piggy bank.
How To Make An Airplane Piggy Bank From A Plastic Bottle.
Step one:
Make a coin slot by cutting out a rectangular slot. Which should be about a 1.5 inches long and ½-inch wide on the side of the soda bottle.
This slot is where your kid will drop coins into the piggy bank. Make sure that it is big enough to fit at least two quarters laying side-by-side.
For the purpose of accuracy and safety, I cut out the slot myself with a stanley knife. My niece helped with the measurements and markings.
Step Two:
The second step my niece and I undertook involved designing the plane body (fuselage) of the plastic bottle piggy bank craft.
I started by drawing two identical pieces for the back half portion of the plane that looks like upside-down Ls.
I used these pieces to put together the back half of the plane's fuselage and the plane's rudder as well.
Step Three:
Once I cut the two pieces of the paper fuselage and the rudder, we attached them to the soda bottle.
We achieved this using the two-sided tape.
Be sure to pay keen attention to the position of the coin slot as you might need to cut into the paper fuselage over the coin slot opening.
Step Four:
My niece then drew two identical rectangles which measured about four inches long and an inch thick on the card stock paper.
She then cut out the rectangles out and rolled them into long tubes to serve as the airplane engines.
She taped the tubes, and afterwards attached them to the plastic bottle, one on each side making sure both touched the ground.
The reason for this is the engines also serve as the "feet" to stabilize the DIY plane piggy bank.
Step Five:
I helped my niece drew and cut two wings.
She drew and cut out two identical triangles with rounded tips on the card stock paper, which became the plane's wings.
She attached the wings on a position above the engines.
Step Six:
I drew up and cut out a propeller which my niece attached to the nose of the DIY airplane piggy bank, right at the bottle lid.
I used the lid from the bottle, as a guide to mark the center part of the propeller. I then cut the inside of the line. Making the circle slightly smaller than the lid ensuring it doesn't fall off.
Step Seven:
I finally let my niece add all the extra details to give the plastic bottle piggy bank it's final detailing.
Using the extra card stock paper, we drew and cut out the windows. Then we attached them giving the finished piggy bank plane a refined finished look.
Time For The Airplane Piggy Bank To Land
The finished DIY piggy bank looked absolutely amazing. My niece couldn't wait to start saving coins in her new "bank". It is now sitting pretty in her bedroom, an airplane half full of coins. I couldn't be happier.
So what did you think about the DIY airplane piggy bank? We would love to hear your thoughts, questions, and comments on this wonderful creation.
We sincerely hope you are going to craft up a few of these Diy airplane piggy banks for the other little kids in your family. All the best.
Find the full step by step tutorial here
The post Airplane Piggy Bank DIY From A Plastic Bottle appeared first on Crafting News.