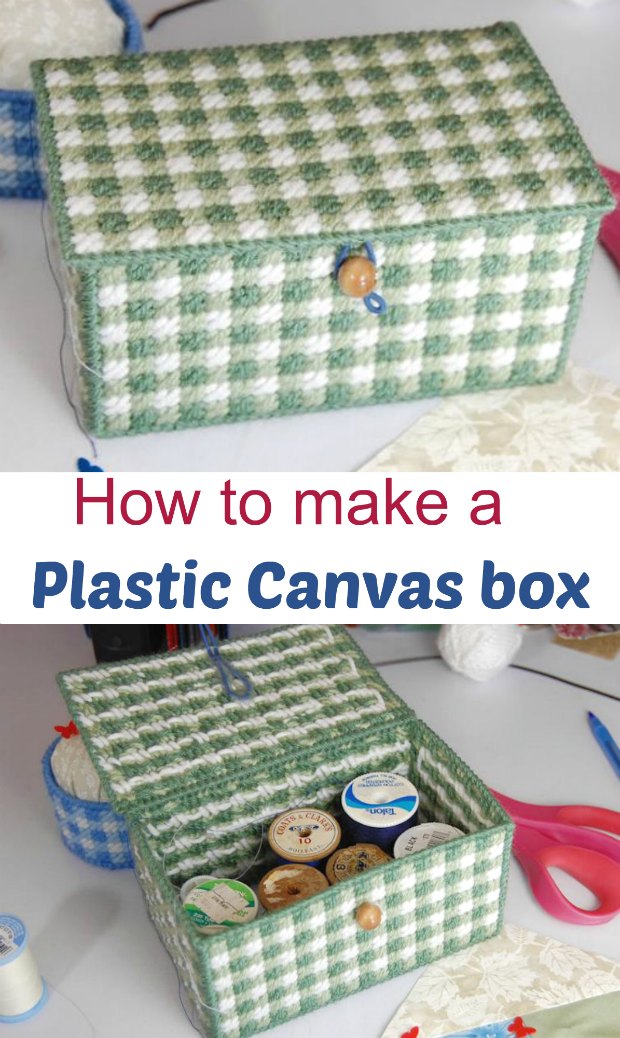 Plastic Canvas Box Gingham Thread
Plastic Canvas Box Gingham Thread can store any knick knacks that you have lying around. Perfect to store your threads and needles. We have only recently been introduced to the fascinating world of Plastic Canvas Arts when we discovered these cool playing card coasters and box. There is so much you can do with this stuff, and we love it! Here's a free pattern/project for you today if you would like to give plastic canvas a try for the first time. No funny shapes to start with, but you can still sew a pretty design and make a useful box.
For more patterns using Plastic Canvas, click HERE.
RECOMMENDED WITH THIS PROJECT
7-count plastic canvas
Red Heart Yarn
Hot glue
Elastic hair band
Sewing thread
Sewing needle
#16 plastic canvas needle
<img class="mce-object" title="" src="data:image/gif;base64,R0lGODlhAQABAIAAAAAAAP///yH5BAEAAAAALAAAAAABAAEAAAIBRAA7″ alt="" width="20″ height="20″ data-wp-preserve="%3Cscript%20type%3D%22text%2Fjavascript%22%3E%0Aamzn_assoc_placement%20%3D%20%22adunit0%22%3B%0Aamzn_assoc_search_bar%20%3D%20%22true%22%3B%0Aamzn_assoc_tracking_id%20%3D%20%22craftingnews-20%22%3B%0Aamzn_assoc_search_bar_position%20%3D%20%22bottom%22%3B%0Aamzn_assoc_ad_mode%20%3D%20%22search%22%3B%0Aamzn_assoc_ad_type%20%3D%20%22smart%22%3B%0Aamzn_assoc_marketplace%20%3D%20%22amazon%22%3B%0Aamzn_assoc_region%20%3D%20%22US%22%3B%0Aamzn_assoc_title%20%3D%20%22Shop%20Related%20Products%22%3B%0Aamzn_assoc_default_search_phrase%20%3D%20%22plastic%20canvas%20supplies%22%3B%0Aamzn_assoc_default_category%20%3D%20%22All%22%3B%0Aamzn_assoc_linkid%20%3D%20%2227624142c12511075421df5347ec32a9%22%3B%0A%3C%2Fscript%3E" data-mce-placeholder="1″>
<img class="mce-object" title="" src="data:image/gif;base64,R0lGODlhAQABAIAAAAAAAP///yH5BAEAAAAALAAAAAABAAEAAAIBRAA7″ alt="" width="20″ height="20″ data-wp-preserve="%3Cscript%20src%3D%22%2F%2Fz-na.amazon-adsystem.com%2Fwidgets%2Fonejs%3FMarketPlace%3DUS%22%3E%3C%2Fscript%3E" data-mce-placeholder="1″>
Get More Plastic Canvas Patterns Here
The post Plastic Canvas Box Gingham Thread – Free Pattern appeared first on Crafting News.