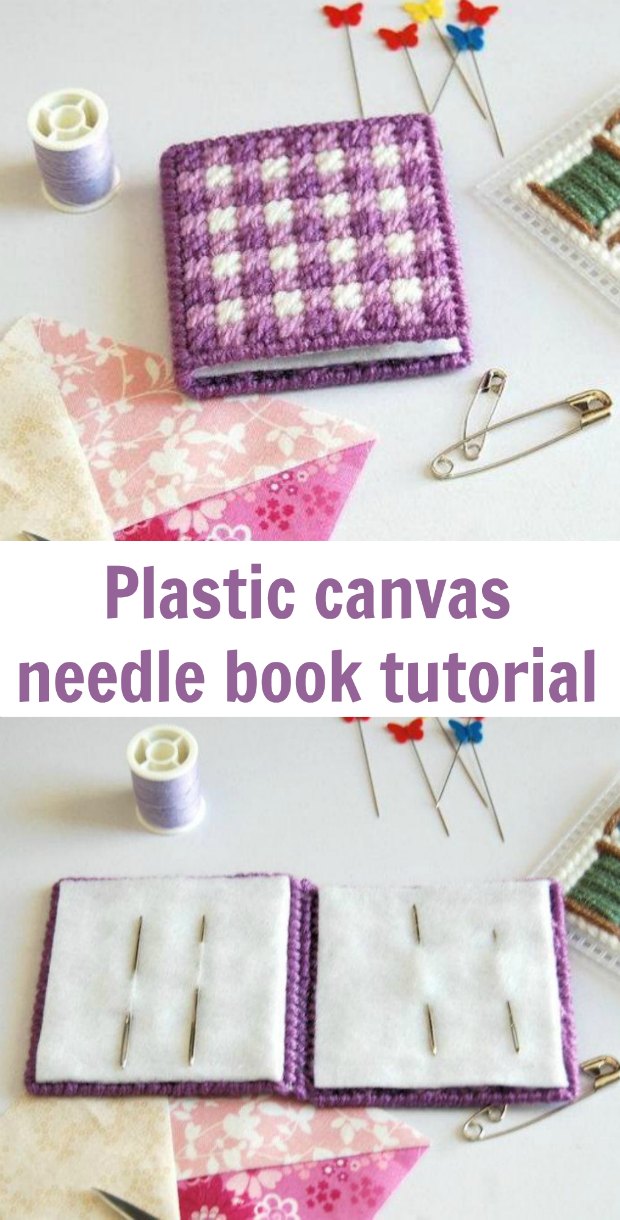 DIY Needle Book Plastic Canvas Tutorial
DIY Needle Book plastic canvas tutorial is a part of the plastic canvas craze. We've only recently learned about the craze of plastic canvas, but we're hooked! It's such a relaxing way to craft, and the kids can have a lot of fun doing it too. The needle is blunt with a big eye, the yarn is nice and thick and projects make up quickly.
This lovely little needle book will help dress up your sewing room and make finding your needles so much easier! Make several pages and then mark them or embroider them with the names and sizes of your needles. One for universal, one for stretch or ball point, another page for hand sewing needles.
This is a free pattern and a small simple project to get you started – give it a try!
SIZING / FINISHED MEASUREMENTS 3×3 inches
RECOMMENDED WITH THIS PATTERN
7-count plastic canvas
Red Heart Super Saver yarn
Craft Felt
Craft Glue
#16 embroidery needle
<img class="mce-object" title="" src="data:image/gif;base64,R0lGODlhAQABAIAAAAAAAP///yH5BAEAAAAALAAAAAABAAEAAAIBRAA7″ alt="" width="20″ height="20″ data-wp-preserve="%3Cscript%20type%3D%22text%2Fjavascript%22%3E%0Aamzn_assoc_placement%20%3D%20%22adunit0%22%3B%0Aamzn_assoc_search_bar%20%3D%20%22true%22%3B%0Aamzn_assoc_tracking_id%20%3D%20%22craftingnews-20%22%3B%0Aamzn_assoc_search_bar_position%20%3D%20%22bottom%22%3B%0Aamzn_assoc_ad_mode%20%3D%20%22search%22%3B%0Aamzn_assoc_ad_type%20%3D%20%22smart%22%3B%0Aamzn_assoc_marketplace%20%3D%20%22amazon%22%3B%0Aamzn_assoc_region%20%3D%20%22US%22%3B%0Aamzn_assoc_title%20%3D%20%22Shop%20Related%20Products%22%3B%0Aamzn_assoc_default_search_phrase%20%3D%20%22plastic%20canvas%22%3B%0Aamzn_assoc_default_category%20%3D%20%22All%22%3B%0Aamzn_assoc_linkid%20%3D%20%22ff9305020000867e8a831fdb0065b6c8%22%3B%0A%3C%2Fscript%3E" data-mce-placeholder="1″>
<img class="mce-object" title="" src="data:image/gif;base64,R0lGODlhAQABAIAAAAAAAP///yH5BAEAAAAALAAAAAABAAEAAAIBRAA7″ alt="" width="20″ height="20″ data-wp-preserve="%3Cscript%20src%3D%22%2F%2Fz-na.amazon-adsystem.com%2Fwidgets%2Fonejs%3FMarketPlace%3DUS%22%3E%3C%2Fscript%3E" data-mce-placeholder="1″>
Get the free needle book pattern here
Find other plastic canvas projects here
The post DIY Needle Book Plastic Canvas Tutorial appeared first on Crafting News.